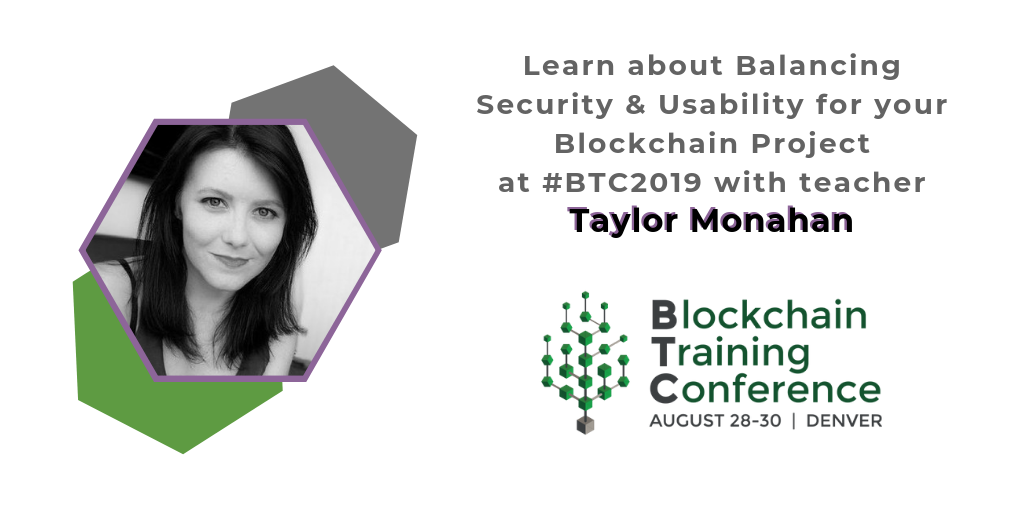 We're excited to spotlight some of our BTC2019 teachers this year, and today, we'd like to introduce you to Taylor Monahan. Taylor will be teaching "Balancing Security and Usability in Crypto Products." Check out our chat with Taylor to learn more:
How did you get involved in your subject area & why are you passionate about teaching it?
Experience, experience, experience and flying by the seat of my pants! Hopefully others can learn from my experiences and knowledge and be better informed than I was when starting out.
Why do you think certifications and standards are important in the blockchain industry today?
This space is still in its infancy and we are still building the foundation that will carry us for years to come. By ensuring we have comprehensive certifications and standards in place now, we can build faster, stronger, and more collaboratively. In turn, this produces better products, better people, and builds trust amongst each other and for newcomers to the space.
Why have you decided to teach a session at #BTC2019?
This space is so unique and access to knowledge and expertise can be hard to find at times. When I was first starting out, I learned a lot of things the hard way. By sharing my knowledge, I hope I can prevent the next generation of product creators from making the same mistakes myself and others have made.
We're looking forward to attending Taylor's master class at BTC2019! Make sure to join us by getting your tickets here.